Applications of Forensic Analytics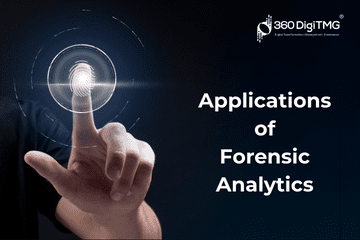 Forensic analytics refers to the use of analytical techniques and tools to investigate and analyze large volumes of data for the purpose of detecting and preventing fraudulent activities, identifying financial irregularities, and providing evidence for legal proceedings.
It is an algorithm-based methodology that uses employee data to demonstrate the return on investment (ROI) for decisions pertaining to the workforce and to learn more about potential future workforce plans. Talent management often makes use of labour force analysis. The key emphasis of talent management is personnel data.
Difference between Workforce Analytics and HR Analytics
Both terms (Workforce analysis and HR analysis) are sometimes used interchangeably, but there is a slight difference between the two. Workforce Analytics is primarily related to talent management, with a particular focus on analyzing workforce data. Workforce analysis is rigorously identified concerning analytics software that manages and reports employee data.
HR Analytics explores many areas of the organization as a whole. This can include day-to-day staff operations, procedural efficiency, or strategic organizational issues in other areas.
If talent analysis is required, the reference should refer to the broader organization's commitment to comprehensive data acquisition, reporting, and analysis at multiple levels of the organization.
Learn the core concepts of Data Science Course video on Youtube:
Applications of Workforce Analytics
Algorithms used in workforce analysis may be created and used to important personnel management domains, like:
Recruitment

It will automatically search your resume and unzip the application information rather than conducting a keyword search.
Check a candidate's social media profiles and background to see if there are any red flags or encouraging indications.
Make a list of candidates automatically.
Find top talent that is similar to the top talent that is already employed by your organisation.
By simplifying automated processes, recruiting expenses can be decreased.
When selecting applicants, refrain from making gender-based judgements.

Retention

For workers who are excelling but aren't yet acknowledged, monitor, caution, and change wage rates.
Watch and record any activity in the security or productivity logs.
Keep an eye out for and identify the actions of workers who might desire to quit the organisation.

Employee Management

Establish performance criteria to monitor employee progress and gauge their future potential for support.
Determine where there are skills and training gaps among employees so that we may offer the proper support or training to increase employee satisfaction.
To aid in succession planning, align talented people with the demands and performance standards of other jobs.
Implementation of Workforce Analytics
Data alone doesn't make sense, wasting time for managers and executives working with data. Here are the basic steps required for a workforce analysis to work:
Start with a staffing problem, or a problem
that your company wants or needs to solve. For example, can you improve employee engagement by bridging skill gaps? Specific questions or questions will help you determine the data and statistical models you need.
Determine the information manager or executive needed to decide on a problem or question.
What does the analysis report need to report?
The ratio of training completion rate to employee survey findings, for instance, may be the data required to answer the question posed in step 1.
Identify the question's objective.
In order to compare the obtained data, it is necessary to ensure that benchmarking standards or historical data are available. The same as in the preceding question, the answer is to finish a certain training programme.
Pick a method for reporting and analysing the measure.
Understanding the levels or connections that will be monitored and analysed is necessary. Metrics might include correlations with training outcomes from other departments, departmental benchmarks, and employee survey data in order to identify skill shortages in an organization's workforce. Do individuals who have undergone extra skill training report higher levels of employee satisfaction than those who have not?
How Workforce Analysis Helps Organizations
Workforce analysis helps organizations address labor force management challenges and opportunities more efficiently. Some of the benefits of an organization include:
Ability to identify potential candidates that best suit the needs and work culture of the organization.
Ability to predict which employees will perform well. This allocates the appropriate resources to retain employees.
Determine the need for future organizational needs to ensure that recruitment meets talent requirements.
Identify factors that indicate employee involvement and job satisfaction to maintain a high-performance workforce.
Identify and flag new talents for future successor development.
Use case 1
To better understand how frontline staff performance affects customer experience and revenue, one organisation employed employee analytics.
What you want to know is: What elements enhance customer happiness and sales performance? The information gathered included details on personality features, routine management procedures, behaviours, and customer encounters. Then, in order to see if there was a correlation, we compared these metrics with financial incentives, chances for staff growth, etc. According to the findings, staff development is one of the most critical elements in boosting customer happiness and sales, while monetary rewards for motivation are comparatively little. Additional performance-influencing elements were also discovered in this study, including certain personality characteristics and shift duration. With this knowledge, the business was able to manage its sales more effectively.
Use case 2
Another company wanted to deal with high turnover in some of its key positions. We used the algorithm to analyze data such as hire date, promotion history, tenure, role, performance, salary, job, and location. They also used data from another analytical tool to measure areas of social engagement with employees. What did you want to know: What are the factors that indicate that an employee is considering laying off? As a result, the severance rate of employees with little social interaction was high. By being able to find these warning signs, the company was able to intervene in such a situation, with sales declining by 25% over time.
Use case 3
The Amsterdam-based business provides solutions for employee analysis that are targeted towards recruiting tactics. The tool asks 16 questions of candidates to gather information on their preferences, including B. Promotions, employment security, perks, and compensation potential. Additionally, typical information about schooling and work history is gathered. Employers who use workforce analysis tools might ask themselves what sort of workers are required for a certain position while also learning more about what matters to candidates. can be used. The likelihood that the applicant will sign with the firm increases if the demands of the candidate can be addressed.
Click here to learn Data Science Course, Data Science Course in Hyderabad, Data Science Course in Bangalore
Data Science Placement Success Story
Other Domain Analytics in our 360DigiTMG
Political Analytics, Transit Analytics, Forest Analytics, Wild Analytics, Agriculture Analytics, Army Analytics, E-commerce Analytics, Energy and Resource Analytics, Hospital Analytics, Healthcare Analytics, Hospitality Analytics, Oil and Gas Analytics, Regulatory Analytics, Security Analytics, Trade Analytics, Railway Analytics, Defense Analytics, Education Analytics, Accounting Analytics, Fraud Analytics, Legal and Law Analytics, Banking Analytics, Insurance Analytics, Life Science Analytics, Pharma Analytics, Aviation Analytics, Retail Analytics, Cyber Security Analytics, Supply Chain Analytics, Marketing Analytics
Data Science Training Institutes in Other Locations
Agra, Ahmedabad, Amritsar, Anand, Anantapur, Bangalore, Bhopal, Bhubaneswar, Chengalpattu, Chennai, Cochin, Dehradun, Malaysia, Dombivli, Durgapur, Ernakulam, Erode, Gandhinagar, Ghaziabad, Gorakhpur, Gwalior, Hebbal, Hyderabad, Jabalpur, Jalandhar, Jammu, Jamshedpur, Jodhpur, Khammam, Kolhapur, Kothrud, Ludhiana, Madurai, Meerut, Mohali, Moradabad, Noida, Pimpri, Pondicherry, Pune, Rajkot, Ranchi, Rohtak, Roorkee, Rourkela, Shimla, Shimoga, Siliguri, Srinagar, Thane, Thiruvananthapuram, Tiruchchirappalli, Trichur, Udaipur, Yelahanka, Andhra Pradesh, Anna Nagar, Bhilai, Borivali, Calicut, Chandigarh, Chromepet, Coimbatore, Dilsukhnagar, ECIL, Faridabad, Greater Warangal, Guduvanchery, Guntur, Gurgaon, Guwahati, Hoodi, Indore, Jaipur, Kalaburagi, Kanpur, Kharadi, Kochi, Kolkata, Kompally, Lucknow, Mangalore, Mumbai, Mysore, Nagpur, Nashik, Navi Mumbai, Patna, Porur, Raipur, Salem, Surat, Thoraipakkam, Trichy, Uppal, Vadodara, Varanasi, Vijayawada, Visakhapatnam, Tirunelveli, Aurangabad
Data Analyst Courses in Other Locations
ECIL, Jaipur, Pune, Gurgaon, Salem, Surat, Agra, Ahmedabad, Amritsar, Anand, Anantapur, Andhra Pradesh, Anna Nagar, Aurangabad, Bhilai, Bhopal, Bhubaneswar, Borivali, Calicut, Cochin, Chengalpattu , Dehradun, Dombivli, Durgapur, Ernakulam, Erode, Gandhinagar, Ghaziabad, Gorakhpur, Guduvanchery, Gwalior, Hebbal, Hoodi , Indore, Jabalpur, Jaipur, Jalandhar, Jammu, Jamshedpur, Jodhpur, Kanpur, Khammam, Kochi, Kolhapur, Kolkata, Kothrud, Ludhiana, Madurai, Mangalore, Meerut, Mohali, Moradabad, Pimpri, Pondicherry, Porur, Rajkot, Ranchi, Rohtak, Roorkee, Rourkela, Shimla, Shimoga, Siliguri, Srinagar, Thoraipakkam , Tiruchirappalli, Tirunelveli, Trichur, Trichy, Udaipur, Vijayawada, Vizag, Warangal, Chennai, Coimbatore, Delhi, Dilsukhnagar, Hyderabad, Kalyan, Nagpur, Noida, Thane, Thiruvananthapuram, Uppal, Kompally, Bangalore, Chandigarh, Chromepet, Faridabad, Guntur, Guwahati, Kharadi, Lucknow, Mumbai, Mysore, Nashik, Navi Mumbai, Patna, Pune, Raipur, Vadodara, Varanasi, Yelahanka
Navigate to Address
360DigiTMG - Data Science, IR 4.0, AI, Machine Learning Training in Malaysia
Level 16, 1 Sentral, Jalan Stesen Sentral 5, Kuala Lumpur Sentral, 50470 Kuala Lumpur, Wilayah Persekutuan Kuala Lumpur, Malaysia
+60 19-383 1378