Application of Energy and Resources Analytics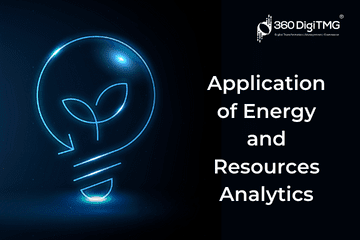 Energy: It is challenging to define energy in a single sentence, however according to the traditional definition, "Energy is the capacity to perform work." We should be aware of the characteristics of energy, such as the fact that it may change from one form to another but cannot be generated or destroyed. According to its sustainability, energy may be divided into renewable and non-renewable sources. Chemical energy, heat or thermal energy, electrical energy, nuclear energy, mechanical energy, and light (i.e., energy in the form of electromagnetic radiation) are only a few examples of the various forms that energy may take.
The energy contained in a source cannot be used directly, the energy conversion has to happen using an external process. Like energy is stored in foods, but to get this energy one must go through the process of digestion to absorb the nutrients from the food. The body then uses these nutrients to provide body with energy. Similarly, a candle has chemical energy but when burnt it releases this energy in the form of heat and light. So it can be said that burning is the process of conversion of chemical energy to heat and light energy.
Learn the core concepts of Data Science Course video on Youtube:
Sources of Energy:
Sources of energy can be classified into:
Renewable Energy
Non- Renewable Energy
Natural resources that can be replenished have no negative effects on the environment. They are an environmentally friendly and renewable source of energy that can be renewed naturally. On the other side, non-renewable sources have a finite supply and have an effect on the environment. They are non-sustainable, meaning that they will eventually run out of energy.
| Renewable sources | Non-renewable sources |
| --- | --- |
| The resources that can be renewed | The resources cannot be renewed once used. |
| No pollution is caused | These resources causes pollution |
| Non exhaustible sources | Exhaustible sources |
| Renewable sources are not affected by human activities | Non-Renewable resources are affected by human activities |
| Examples: Air, Water, Solar | Examples: Mineral, oil, coal etc. |
Natural sources of energy: It's crucial to pick the right materials from the available natural resources. The options for resources have occasionally altered. Wood came first, then coal, then fossil fuels.
The choice is made based on certain criteria like:

Calorific value
Ease of transport
Pollution
Economical

The resources that provide the best values are chosen based on these criteria. For instance, whereas coal used to be the primary fuel, resources today include diesel and electricity.
Generally, natural resources can be divided into two types:

Conventional sources
Non-Conventional sources
| Conventional | Non-Conventional |
| --- | --- |
| These resources have been in use for a very long time. | These resources are in the development phase. |
| These resources are exhaustible. | These resources are not exhaustible |
| These resources cause pollution in the form of smoke and ash. | These resources do not cause pollution. |
| These resources are hard to store, maintain and transport. They are also expensive. | These resources are less expensive as they are used locally and can also be easily maintained. |
| Examples: coal, natural gas, petroleum, and water power. | Examples: solar, biomass, wind, biogas, tidal and geothermal. |
Analytics in Energy and Resources:
In modern life, power comes from resources and energy. Additionally, they generate a lot of data on the energy required for numerous resources that power daily activities. The examination of this data can provide insightful knowledge about how to increase productivity, decrease downtime, or even improve customer serviceability. With the knowledge gained from this information and its application to learn more about certain regions, services, industries, and goods, one may maximise downstream earnings while minimising upstream expenses.
Energy analytics can be described as a process of collecting energy data and delivering insights on consumption and efficiency. This can be done using sophisticated analytical software and algorithms. Considering electrical systems, the simplest source of energy would be the utility meter. But very few insights can be captured from this like the utility bill. Buildings with Building Automated System (BAS) can convert this consumption data into a standardized format (e.g. data through BACnet can be transferred to an analytics application. For buildings that do not have a BAS, a router or a data logger can be used to access data and also transfer this data over the internet or networks covering these buildings. Nowadays more sophisticated IoT devices are being used to collect data in real-time. Using this data and various machine learning algorithms, analytics can be performed to give useful insights which ensure maximum performance, equipment fault detection, peak demand load shifting, load shaving optimal scheduling, etc.
The demand for greater productivity is rising and is closely related to greater efficiency. Manufacturing companies that rely on manual reports for business insights and to determine the various metrics are also looking for AI tools to help determine those metrics and prepare reports in real-time. Take the oil and gas industry as an example. Today's market for the oil and gas industry has fluctuating market conditions as well as complexity in regulations. These insights also allow for the early identification of quality issues.
Data science in clean energy:
Clean energy, also known as renewable energy is also an important source of energy both from an individual and business perspective. With the advent of IoT in analytics and improvements in sensor and connectivity technology, more data can be collected and analyzed to derive useful insights from this data. Data Science in the energy industry can be used to analyze, optimize and improve processes. As the fossil fuel and utility industries progress, so do clean energy technologies. Energy firms can now gather enormous volumes of data thanks to developments in data science, which they may then use to provide ground-breaking decision-making insights. The peak hours for setting energy prices may be determined using this. Additionally, it can assist with the distribution and refining operations for fossil fuel corporations. In a similar vein, data is crucial for effective energy management and renewable energy legislation.
There are multiple ways data can be used in the clean energy sector. Solar plants can collect data and use it to optimize performance, predict upcoming maintenance, reduce maintenance, and make the solar collection more compact. All of these processes require extensive collection and analysis of data. The data management practices which are used in the non-renewable energy sector are used for the renewable sector also.
Use of Big data and Analytics in the Energy and Power Sector
The energy industry contributes in some way to every process. This inexpensive energy is needed for every procedure. Big Data and analytics may be leveraged to make this possible. To do this, businesses can put up the necessary infrastructure on-site and setup big data using internal consultants or the cloud. The energy industry benefits greatly from big data and data analytics. Here are a few instances of how technology benefits various businesses.
Conclusion :
Data analytics not only helps the telecom operators to offer more specialized services and connect more people. The industry is changing and analytics has become at the center of it. Facing the challenges concerning modern technologies, the telecom industry is transforming itself again and the reason is analytics is at the forefront of transformation. Moving forward advanced analytics can automate decision making which will help in maximizing operational efficiency. This will automatically provide ultimate customer experiences.
Future Risk and Opportunity Analysis:
Big data and data analytics assist firms in making strategic business choices. Using the information gathered from IoT sensors, energy firms make wise judgements. On the other side, power producing businesses employ this technology to forecast future pricing. They employ technology to prepare themselves for the future. Data loss is avoided by big data on the cloud. Additionally, it aids businesses in understanding risk profiles and potential chances to take more strategic decisions.
Preservation of Energy:
Energy is something that needs to be preserved. Energy resources are not everlasting. So many advancements are being undertaken in the renewable sector. Also, Data Analytics and Big data can be used for the preservation of vital energy resources. Data analytics can be used to preserve energy and also find new ways to produce it.
Data Collaboration:
Data collaboration is possible with the use of data analytics technologies, which may also be utilised to create a business that is data-centric. Tibco and Tableau may be used to visualise the data. The tools utilised to do analysis include Hadoop, R, and Python.
Supply Chain Visibility:
Big data can be used very effectively to manage inventory and forecast demand to improve supply chain management. The power sector can also use this to make decisions and strategies to manage supply and demand. Smart meters, grids, synchrophasors, and real-time weather information systems can use big data to manage supply chains.
Customer experience and engagement:
The necessity of the hour is for policy reforms, technological improvements, and empowered customers. Engagement with customers is necessary. Energy firms may utilise analytics to interact with clients in a personalised way, which boosts customer happiness, advertises new goods, and decreases service costs.
Improvement in Monitoring and efficiency:
Data analytics can be used to predict the market and act accordingly. Using local algorithms a large volume of data can be evaluated to gain insights and prepare effective business strategies. Using big data equipment monitoring and maintenance can be improved to minimize production hours.
Conclusion
An extremely important industry for growth is the energy sector. Given that it offers both a product and a service, this industry is extremely important. Energy firms continue to provide safe, dependable, economical, and sustainable energy supplies despite all the changes in the industry. In the energy and power sector, big data analytics has shown to be the best instrument for achieving effective business performance.
Click here to learn Data Science Course, Data Science Course in Hyderabad, Data Science Course in Bangalore
Data Science Placement Success Story
Other Domain Analytics in our 360DigiTMG
Political Analytics, Transit Analytics, Forest Analytics, Wild Analytics, Agriculture Analytics, Army Analytics, E-commerce Analytics, Energy and Resource Analytics, Hospital Analytics, Healthcare Analytics, Hospitality Analytics, Oil and Gas Analytics, Regulatory Analytics, Security Analytics, Trade Analytics, Railway Analytics, Defense Analytics, Education Analytics, Accounting Analytics, Fraud Analytics, Legal and Law Analytics, Banking Analytics, Insurance Analytics, Life Science Analytics, Pharma Analytics, Aviation Analytics, Retail Analytics, Cyber Security Analytics, Supply Chain Analytics, Marketing Analytics
Data Science Training Institutes in Other Locations
Agra, Ahmedabad, Amritsar, Anand, Anantapur, Bangalore, Bhopal, Bhubaneswar, Chengalpattu, Chennai, Cochin, Dehradun, Malaysia, Dombivli, Durgapur, Ernakulam, Erode, Gandhinagar, Ghaziabad, Gorakhpur, Gwalior, Hebbal, Hyderabad, Jabalpur, Jalandhar, Jammu, Jamshedpur, Jodhpur, Khammam, Kolhapur, Kothrud, Ludhiana, Madurai, Meerut, Mohali, Moradabad, Noida, Pimpri, Pondicherry, Pune, Rajkot, Ranchi, Rohtak, Roorkee, Rourkela, Shimla, Shimoga, Siliguri, Srinagar, Thane, Thiruvananthapuram, Tiruchchirappalli, Trichur, Udaipur, Yelahanka, Andhra Pradesh, Anna Nagar, Bhilai, Borivali, Calicut, Chandigarh, Chromepet, Coimbatore, Dilsukhnagar, ECIL, Faridabad, Greater Warangal, Guduvanchery, Guntur, Gurgaon, Guwahati, Hoodi, Indore, Jaipur, Kalaburagi, Kanpur, Kharadi, Kochi, Kolkata, Kompally, Lucknow, Mangalore, Mumbai, Mysore, Nagpur, Nashik, Navi Mumbai, Patna, Porur, Raipur, Salem, Surat, Thoraipakkam, Trichy, Uppal, Vadodara, Varanasi, Vijayawada, Visakhapatnam, Tirunelveli, Aurangabad
Data Analyst Courses in Other Locations
ECIL, Jaipur, Pune, Gurgaon, Salem, Surat, Agra, Ahmedabad, Amritsar, Anand, Anantapur, Andhra Pradesh, Anna Nagar, Aurangabad, Bhilai, Bhopal, Bhubaneswar, Borivali, Calicut, Cochin, Chengalpattu , Dehradun, Dombivli, Durgapur, Ernakulam, Erode, Gandhinagar, Ghaziabad, Gorakhpur, Guduvanchery, Gwalior, Hebbal, Hoodi , Indore, Jabalpur, Jaipur, Jalandhar, Jammu, Jamshedpur, Jodhpur, Kanpur, Khammam, Kochi, Kolhapur, Kolkata, Kothrud, Ludhiana, Madurai, Mangalore, Meerut, Mohali, Moradabad, Pimpri, Pondicherry, Porur, Rajkot, Ranchi, Rohtak, Roorkee, Rourkela, Shimla, Shimoga, Siliguri, Srinagar, Thoraipakkam , Tiruchirappalli, Tirunelveli, Trichur, Trichy, Udaipur, Vijayawada, Vizag, Warangal, Chennai, Coimbatore, Delhi, Dilsukhnagar, Hyderabad, Kalyan, Nagpur, Noida, Thane, Thiruvananthapuram, Uppal, Kompally, Bangalore, Chandigarh, Chromepet, Faridabad, Guntur, Guwahati, Kharadi, Lucknow, Mumbai, Mysore, Nashik, Navi Mumbai, Patna, Pune, Raipur, Vadodara, Varanasi, Yelahanka
Navigate to Address
360DigiTMG - Data Analytics, Data Science Course Training Hyderabad
2-56/2/19, 3rd floor, Vijaya Towers, near Meridian School, Ayyappa Society Rd, Madhapur, Hyderabad, Telangana 500081
099899 94319