Applications of horoscope analytics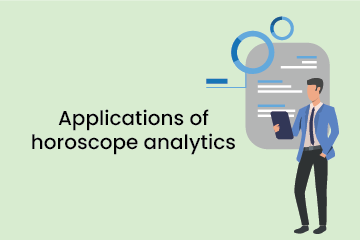 Early in the morning every day, when the sun rises, birds start chirping. This is a usual follow-up and nothing is so surprising because we have a clear connection between a cause, the ambient light, and the chattels it has in waking up the birds. If we try to connect with another scenario when the sun rises, the train Express moves out from Howrah station as well. Here there is no connection between the ambient light and the behavior of the engine. The first scenario is through causation and the second is through correlation. In this article, we explore astrology from the perspective of data science and astrology.
The world of data science, of which artificial intelligence (AI) is a specific example, is largely based on the study of correlations.
Human beings have always been interested in causality. Maybe this was one of the major hobbies of early theoreticians, scientists, and thinkers. Thinking about causality has often opened the way for many innovations and inventions across the ages. Causality means the relationship between cause and effect or the concept that every event has a cause. This probably led to the answer to questions like "What causes things to happen in life ?" "How do I control my life ?" "What is going to happen in life"? One day a sage would have said that it is because of the celestial bodies. This is where astrology was born.
Learn the core concepts of Data Science Course video on Youtube:
Astrology is predicting your life by interpreting the movement of celestial bodies. Few say it is pseudoscience, few others say it is the first predictive model. Astrologers consider the place of birth, date of birth, and time of birth to create one's horoscope. Given below is the horoscope of our Prime Minister Narender Modi
Here we have 12 celestial bodies, this can be related to our factor analysis or PCA where the number of variables can be lessened. This is a solution to the curse of dimensionality. Hence early stage astrologers have come up with 12 celestial bodies. Astrology can also be considered a clustering algorithm. Here ASC is Lagna during his birth. So the combination of Mars and the Moon will thumbs up to your career growth. The 11th house is known as 'the House of Gains' Jupiter in the 11th house blesses the natives with a better sense of humor, helps them become a leader, and further helps them keep a cheerful environment. Venus in the fifth house represents academics, creativity, artistic talents, political interests, past life deeds, ancient knowledge, and spirituality. People talk about Manglik dosha as a condition believed by astrologers to be devastating for marriage, causing discomfort and a strained relationship. Hence, validating the exactness of these clusters is easy, finding out people with the same position of horoscopic structures and checking if they had a troublesome childhood, etc. Alongside linking the pattern matching and trend lines in a similar way to astrology is one other factor. If we check these planetary dimensions, aspects, conjuncts, combinations, Navamsha positions, etc -- we are assured to understand a person's life.
​​But, astrology is not that simple; it is the understanding that if a planet is present in a particular house, it may cancel out the effect of other planets or would not have any effect in itself. This prompts me of multicollinearity. When certain independent variables are highly correlated with each other, this can be eliminated by removing either of them and when a new stronger feature/variable is added or created either by combining the independent variables or taking the help of subject matter experts, which can explain the relationship much better. We can also try feature selection and deep feature analysis to pull out the unknown planet interactions and linking behavior patterns but conclude that data is the key.
While building a predictive model, splitting the available data into train and test is the prior exercise. Then, the training data is passed to a machine learning model to identify existing behaviors/patterns/relationships and pass the test data to evaluate it. After passing all evaluation criteria, we use it for getting the predictions on new data points. This is predictive modeling of what we do as Data Scientists. The more training data, the better the predictions. Likewise, astrology can also be considered a huge predictive model, where the training data set would be the lives of our ancestors. Early astrologers would have performed an extensive exploratory data analysis before forming the clusters, but the exact data points used for the same are not available. All we can do is speculate on some divine intercession behind astrology.
We need data on the date of birth, time and place of birth, data like marriage date, children, job information, illness, loss of job, hurdles in business, any major accidents and illness of a spouse, categorical data like profession, happiness, spirituality and so on. A similar data collection is already happening every day in the world of the internet and social media!
Data Science, similar to Astrology, can make predictions but cannot change destiny. Decision-making is our choice !!!
For an instance, matrimonial sites do validate the astrological model by collecting data related to education, health, marriage, trauma, etc. Even Facebook can also do the same, we are giving the data for free. If there are missing values, they can be treated using various imputation methods like on hot decks, or random. However, none expects 100% accuracy in the astrological model, but it's out of interest to know the future.
Allegedly there is logical evidence that the astrological model has good predictive power. Such models will help us to identify natal planetary patterns, recorded at birth, and their degree of correlation with ensuing life events. This will either confirm or contradict, ancient astrological precepts or even lead to new clues.
The predictions are to a certain extent that "There is an 85% probability that, if you conceive at this time, on a particular date and place; your child will grow up to be an ABC!!"
Data Science Placement Success Story
Click here to learn Data Science Course, Data Science Course in Hyderabad, Data Science Course in Bangalore
Other Domain Analytics in our 360DigiTMG
Political Analytics, Transit Analytics, Forest Analytics, Wild Analytics, Agriculture Analytics, Army Analytics, E-commerce Analytics, Energy and Resource Analytics, Hospital Analytics, Healthcare Analytics, Hospitality Analytics, Oil and Gas Analytics, Regulatory Analytics, Security Analytics, Trade Analytics, Railway Analytics, Defense Analytics, Education Analytics, Accounting Analytics, Fraud Analytics, Legal and Law Analytics, Banking Analytics, Insurance Analytics, Life Science Analytics, Pharma Analytics, Aviation Analytics, Retail Analytics, Cyber Security Analytics, Supply Chain Analytics, Marketing Analytics
Data Science Training Institutes in Other Locations
Agra
,
Ahmedabad
,
Amritsar
,
Anand
,
Anantapur
,
Bangalore
,
Bhopal
,
Bhubaneswar
,
Chengalpattu
,
Chennai
,
Cochin
,
Dehradun
,
Malaysia
,
Dombivli
,
Durgapur
,
Ernakulam
,
Erode
,
Gandhinagar
,
Ghaziabad
,
Gorakhpur
,
Gwalior
,
Hebbal
,
Hyderabad
,
Jabalpur
,
Jalandhar
,
Jammu
,
Jamshedpur
,
Jodhpur
,
Khammam
,
Kolhapur
,
Kothrud
,
Ludhiana
,
Madurai
,
Meerut
,
Mohali
,
Moradabad
,
Noida
,
Pimpri
,
Pondicherry
,
Pune
,
Rajkot
,
Ranchi
,
Rohtak
,
Roorkee
,
Rourkela
,
Shimla
,
Shimoga
,
Siliguri
,
Srinagar
,
Thane
,
Thiruvananthapuram
,
Tiruchchirappalli
,
Trichur
,
Udaipur
,
Yelahanka
,
Andhra Pradesh
,
Anna Nagar
,
Bhilai
,
Borivali
,
Calicut
,
Chandigarh
,
Chromepet
,
Coimbatore
,
Dilsukhnagar
,
ECIL
,
Faridabad
,
Greater Warangal
,
Guduvanchery
,
Guntur
,
Gurgaon
,
Guwahati
,
Hoodi
,
Indore
,
Jaipur
,
Kalaburagi
,
Kanpur
,
Kharadi
,
Kochi
,
Kolkata
,
Kompally
,
Lucknow
,
Mangalore
,
Mumbai
,
Mysore
,
Nagpur
,
Nashik
,
Navi Mumbai
,
Patna
,
Porur
,
Raipur
,
Salem
,
Surat
,
Thoraipakkam
,
Trichy
,
Uppal
,
Vadodara
,
Varanasi
,
Vijayawada
,
Visakhapatnam
,
Tirunelveli
,
Aurangabad
Data Analyst Courses in Other Locations
ECIL
,
Jaipur
,
Pune
,
Gurgaon
,
Salem
,
Surat
,
Agra
,
Ahmedabad
,
Amritsar
,
Anand
,
Anantapur
,
Andhra Pradesh
,
Anna Nagar
,
Aurangabad
,
Bhilai
,
Bhopal
,
Bhubaneswar
,
Borivali
,
Calicut
,
Cochin
,
Chengalpattu
,
Dehradun
,
Dombivli
,
Durgapur
,
Ernakulam
,
Erode
,
Gandhinagar
,
Ghaziabad
,
Gorakhpur
,
Guduvanchery
,
Gwalior
,
Hebbal
,
Hoodi
,
Indore
,
Jabalpur
,
Jaipur
,
Jalandhar
,
Jammu
,
Jamshedpur
,
Jodhpur
,
Kanpur
,
Khammam
,
Kochi
,
Kolhapur
,
Kolkata
,
Kothrud
,
Ludhiana
,
Madurai
,
Mangalore
,
Meerut
,
Mohali
,
Moradabad
,
Pimpri
,
Pondicherry
,
Porur
,
Rajkot
,
Ranchi
,
Rohtak
,
Roorkee
,
Rourkela
,
Shimla
,
Shimoga
,
Siliguri
,
Srinagar
,
Thoraipakkam
,
Tiruchirappalli
,
Tirunelveli
,
Trichur
,
Trichy
,
Udaipur
,
Vijayawada
,
Vizag
,
Warangal
,
Chennai
,
Coimbatore
,
Delhi
,
Dilsukhnagar
,
Hyderabad
,
Kalyan
,
Nagpur
,
Noida
,
Thane
,
Thiruvananthapuram
,
Uppal
,
Kompally
,
Bangalore
,
Chandigarh
,
Chromepet
,
Faridabad
,
Guntur
,
Guwahati
,
Kharadi
,
Lucknow
,
Mumbai
,
Mysore
,
Nashik
,
Navi Mumbai
,
Patna
,
Pune
,
Raipur
,
Vadodara
,
Varanasi
,
Yelahanka
Navigate to Address
360DigiTMG - Data Science Course, Data Scientist Course Training in Chennai
D.No: C1, No.3, 3rd Floor, State Highway 49A, 330, Rajiv Gandhi Salai, NJK Avenue, Thoraipakkam, Tamil Nadu 600097
1800-212-654-321