Applications of Data Science in HR Analytics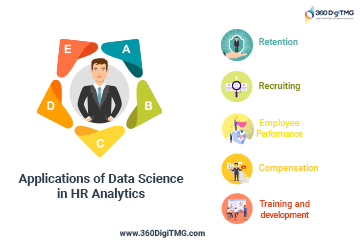 What is HR Analytics?
HR analytics refers to the process of fully integrating data science into the HR industry. The fundamental tenet of HR analytics is that it use statistical models, mathematical models, and analysis to enhance human resource outcomes. All of this analysis aids in the examination of every aspect of employees that will eventually improve corporate performance.
Many companies are now considering the value of analytics and how it might alter how operations are conducted. The HR departments are the most recent to evaluate how well appropriate analytics can manage risks and also help with making rapid judgements based on data gathered over time.
Also, check this Data Analytics Course to start a career in Data Analytics.
People analytics, workforce analytics, and talent analytics are only a few of the factors taken into account in HR analytics. All of these analytics components support various human resource operations by automating them and eventually making them more affordable.
Attendance data
Employee surveys
Salary and remuneration data
Promotions and appraisal data
Telemetric data
Employee reviews and testimonials
Recruitment procedure and data
Work history of employees
Personality data of employees
Demographics
Past and historical databases of the employees
For improved strategic decision-making and HR planning, all of this data is gathered and organised. Data may also aid in improving coordination and cooperation across various organisational units. The HR software may also be enhanced by addressing the difficulties that managers and employees experience.
Pursue a career in Data Analytics with the number one training institute 360DigiTMG. Enroll in the Best Data Analytics Courses in Hyderabad with placements to start your journey.
Learn the core concepts of Data Science Course video on YouTube:
HR Analytics Process
Data gathering is never the final goal because there is still plenty to do. To acquire insights that might be helpful, HR analysts must work on various aspects of the data using various models, algorithms, machine learning approaches, etc. The creation of reports, visualising tools, and dashboards using data science techniques contributes to a greater understanding of HR operations and functions.
Data collections
Data cleansing
Data analysis
Create HR plans based on various insights gathered
Evaluate the plans
Execute the plans and streamline them
Learn the core concepts of Data Analytics Course video on Youtube:
Benefits of HR Analytics
The way human resources should operate in an organisation is changing as a result of HR analytics. This is due to the fact that prior judgements were not simplified and were not supported by a substantial quantity of evidence. But because to appropriate analytics, things are quickly shifting in the workplace. Large amounts of data are utilised to acquire insights, which are then used to improve the strategic understanding of how the operational functioning is being carried out. Therefore, HR analytics is creating new viewpoints and concepts that are people-oriented while maintaining strategy and operational effectiveness at the forefront. It may be claimed that HR analytics is based on facts and more of a return on investment than assumptions and theory-based planning.
Some of the Benefits that HR Analytics is Bringing to Human Resources are:
Better automation of human resources functions saves time and effort.
The human resources are becoming better in their hiring and recruitment practices.
The rate of retention is more enhanced because plans and strategies are not just profit-oriented but people-oriented as well.
The processes of human resources are more streamlined and improved.
The workforce, with the help of better analytics, can perform their tasks in less time and in a more productive way.
The overall employee experience is enhanced which then makes employees happier and more content with their jobs.
Better talent improvement can be taken into consideration for in-house training and development.
Kickstart your career by enrolling in this Data Analyst Course Fees in Chennai.
Some of the major Applications that can be found in HR Analytics are:
Retention: The fact that there is a low rate of employee turnover and that many workers choose to quit their jobs in the beginning of their careers is one of the main issues that businesses confront. Overall growth and organisational performance may suffer as a result. Additionally, if variable expenses like recruitment, training, missed productivity, etc. are taken into account, hiring new personnel can become expensive for the company. The retention rate of the workforce must thus be raised. Through efficient churn analysis, analytics may aid in raising the retention rate. With useful data, they can better detect dangers, implement new regulations, and develop training programmes.
Some of the points that are taken into consideration are:
Attrition
Churn rate
Attributes of employees who have longer tenure
Reasons why employees are leaving
Employee survey data
Onboarding experience
Future forecasting of employee performance
The selection of the ideal applicant for a certain position or job is another one of the key duties of human resources. Finding the perfect candidate takes a lot of work and requires careful planning, despite how simple it may seem. Numerous factors need to be considered, including market information, necessary talents, previous recruiting methods, performance levels, etc.
Talent may be acquired from a variety of sources, including consultancies, colleges, direct sources, recommendations, etc. To discover individuals with the necessary experience, abilities, and educational credentials, it is necessary to analyse applicants' qualifications. HR analytics may assist in organising the data and transforming it into a format that is clear and simple to look at. Improved predictive analysis can also aid in providing a more accurate prediction of a candidate's performance.
Some of the metrics that analytics take into consideration are:
Number of positions available
Number of applicants
Final rounds and interviews held
Acceptance rate of the offer
Employee Performance: To obtain a more accurate employee assessment report, it is crucial to evaluate and analyse employee performance. Improved analytics may promote employee growth inside the company and assist retain competent and experienced staff. Analytics may assist in identifying the organization's top performers, those who aren't performing to their full potential, the average length of employment, the variables that motivate workers, and other information. Choosing career paths, elevating employee contentment, identifying leadership skills, and motivating them to improve overall performance will all be facilitated by this. Understanding staff performance will therefore enable the company to increase overall ROI and identify prospective leaders.
Compensation: Compensation is yet another essential element that affects employee productivity and overall business costs. The most crucial choice that the human resources division must make is this one. HR analytics may assist in the analysis of a variety of data types, including market data, rival salary trends, employee demands, departure interviews, reasons for offer rejection, etc. All of these aspects provide the business the ability to choose employee salary and remuneration that will be both financially feasible and satisfy the workforce.
Wish to pursue a career in data analytics? Enroll in this Data Analytics course in Bangalore to start your journey.
There are three things that human resources can pay attention to with the help of analytics:
Sales Motivation Incentives: With this, the sales quota is decided on and their bonus structure is optimized.
Incentives: Analytics may aid by offering insights into the motivation variables, both monetary and non-monetary, to ensure that the staff are motivated, have increased productivity, and that the right incentives are in place.
Executive Compensation: To keep the business running with proper leadership, it is important to retain the top leaders. To have better competitive advantages against other competitors, HR analytics can help with deciding on better perks and bonuses.
Training and Development: There is a skill gap that many organisations struggle with. Many employees lack the necessary skills to perform a variety of tasks. Additionally, there is a need for internal training because entry-level positions sometimes lack the necessary abilities. HR analytics can assist in more efficiently addressing that gap. To determine how to train people, it might be useful to collect information about the workforce and their degree of expertise. Analytics may also be used to evaluate the entire development process as well as to allocate money to the best areas for staff training. This will assist companies in improving the qualifications and skills of their personnel, which will improve company performance and provide them an advantage over rivals.
Nowadays, firms may have problems operating without effective HR analytics. The use of data science and analytics will be helpful not just in discovering and hiring more qualified workers, but also in identifying the issues that are driving talent away from companies. Additionally, this will improve return on investment and put you in a better position than your rivals in the market.
Data Science Placement Success Story
Other Domain Analytics in our 360DigiTMG
Political Analytics, Transit Analytics, Forest Analytics, Wild Analytics, Agriculture Analytics, Army Analytics, E-commerce Analytics, Energy and Resource Analytics, Hospital Analytics, Healthcare Analytics, Hospitality Analytics, Oil and Gas Analytics, Regulatory Analytics, Security Analytics, Trade Analytics, Railway Analytics, Defense Analytics, Education Analytics, Accounting Analytics, Fraud Analytics, Legal and Law Analytics, Banking Analytics, Insurance Analytics, Life Science Analytics, Pharma Analytics, Aviation Analytics, Retail Analytics, Cyber Security Analytics, Supply Chain Analytics, Marketing Analytics
Data Science Training Institutes in Other Locations
Agra
,
Ahmedabad
,
Amritsar
,
Anand
,
Anantapur
,
Bangalore
,
Bhopal
,
Bhubaneswar
,
Chengalpattu
,
Chennai
,
Cochin
,
Dehradun
,
Malaysia
,
Dombivli
,
Durgapur
,
Ernakulam
,
Erode
,
Gandhinagar
,
Ghaziabad
,
Gorakhpur
,
Gwalior
,
Hebbal
,
Hyderabad
,
Jabalpur
,
Jalandhar
,
Jammu
,
Jamshedpur
,
Jodhpur
,
Khammam
,
Kolhapur
,
Kothrud
,
Ludhiana
,
Madurai
,
Meerut
,
Mohali
,
Moradabad
,
Noida
,
Pimpri
,
Pondicherry
,
Pune
,
Rajkot
,
Ranchi
,
Rohtak
,
Roorkee
,
Rourkela
,
Shimla
,
Shimoga
,
Siliguri
,
Srinagar
,
Thane
,
Thiruvananthapuram
,
Tiruchchirappalli
,
Trichur
,
Udaipur
,
Yelahanka
,
Andhra Pradesh
,
Anna Nagar
,
Bhilai
,
Borivali
,
Calicut
,
Chandigarh
,
Chromepet
,
Coimbatore
,
Dilsukhnagar
,
ECIL
,
Faridabad
,
Greater Warangal
,
Guduvanchery
,
Guntur
,
Gurgaon
,
Guwahati
,
Hoodi
,
Indore
,
Jaipur
,
Kalaburagi
,
Kanpur
,
Kharadi
,
Kochi
,
Kolkata
,
Kompally
,
Lucknow
,
Mangalore
,
Mumbai
,
Mysore
,
Nagpur
,
Nashik
,
Navi Mumbai
,
Patna
,
Porur
,
Raipur
,
Salem
,
Surat
,
Thoraipakkam
,
Trichy
,
Uppal
,
Vadodara
,
Varanasi
,
Vijayawada
,
Visakhapatnam
,
Tirunelveli
,
Aurangabad
Data Analyst Courses in Other Locations
ECIL
,
Jaipur
,
Pune
,
Gurgaon
,
Salem
,
Surat
,
Agra
,
Ahmedabad
,
Amritsar
,
Anand
,
Anantapur
,
Andhra Pradesh
,
Anna Nagar
,
Aurangabad
,
Bhilai
,
Bhopal
,
Bhubaneswar
,
Borivali
,
Calicut
,
Cochin
,
Chengalpattu
,
Dehradun
,
Dombivli
,
Durgapur
,
Ernakulam
,
Erode
,
Gandhinagar
,
Ghaziabad
,
Gorakhpur
,
Guduvanchery
,
Gwalior
,
Hebbal
,
Hoodi
,
Indore
,
Jabalpur
,
Jaipur
,
Jalandhar
,
Jammu
,
Jamshedpur
,
Jodhpur
,
Kanpur
,
Khammam
,
Kochi
,
Kolhapur
,
Kolkata
,
Kothrud
,
Ludhiana
,
Madurai
,
Mangalore
,
Meerut
,
Mohali
,
Moradabad
,
Pimpri
,
Pondicherry
,
Porur
,
Rajkot
,
Ranchi
,
Rohtak
,
Roorkee
,
Rourkela
,
Shimla
,
Shimoga
,
Siliguri
,
Srinagar
,
Thoraipakkam
,
Tiruchirappalli
,
Tirunelveli
,
Trichur
,
Trichy
,
Udaipur
,
Vijayawada
,
Vizag
,
Warangal
,
Chennai
,
Coimbatore
,
Delhi
,
Dilsukhnagar
,
Hyderabad
,
Kalyan
,
Nagpur
,
Noida
,
Thane
,
Thiruvananthapuram
,
Uppal
,
Kompally
,
Bangalore
,
Chandigarh
,
Chromepet
,
Faridabad
,
Guntur
,
Guwahati
,
Kharadi
,
Lucknow
,
Mumbai
,
Mysore
,
Nashik
,
Navi Mumbai
,
Patna
,
Pune
,
Raipur
,
Vadodara
,
Varanasi
,
Yelahanka
Navigate to Address
360DigiTMG - Data Science, IR 4.0, AI, Machine Learning Training in Malaysia
Level 16, 1 Sentral, Jalan Stesen Sentral 5, Kuala Lumpur Sentral, 50470 Kuala Lumpur, Wilayah Persekutuan Kuala Lumpur, Malaysia
+60 19-383 1378